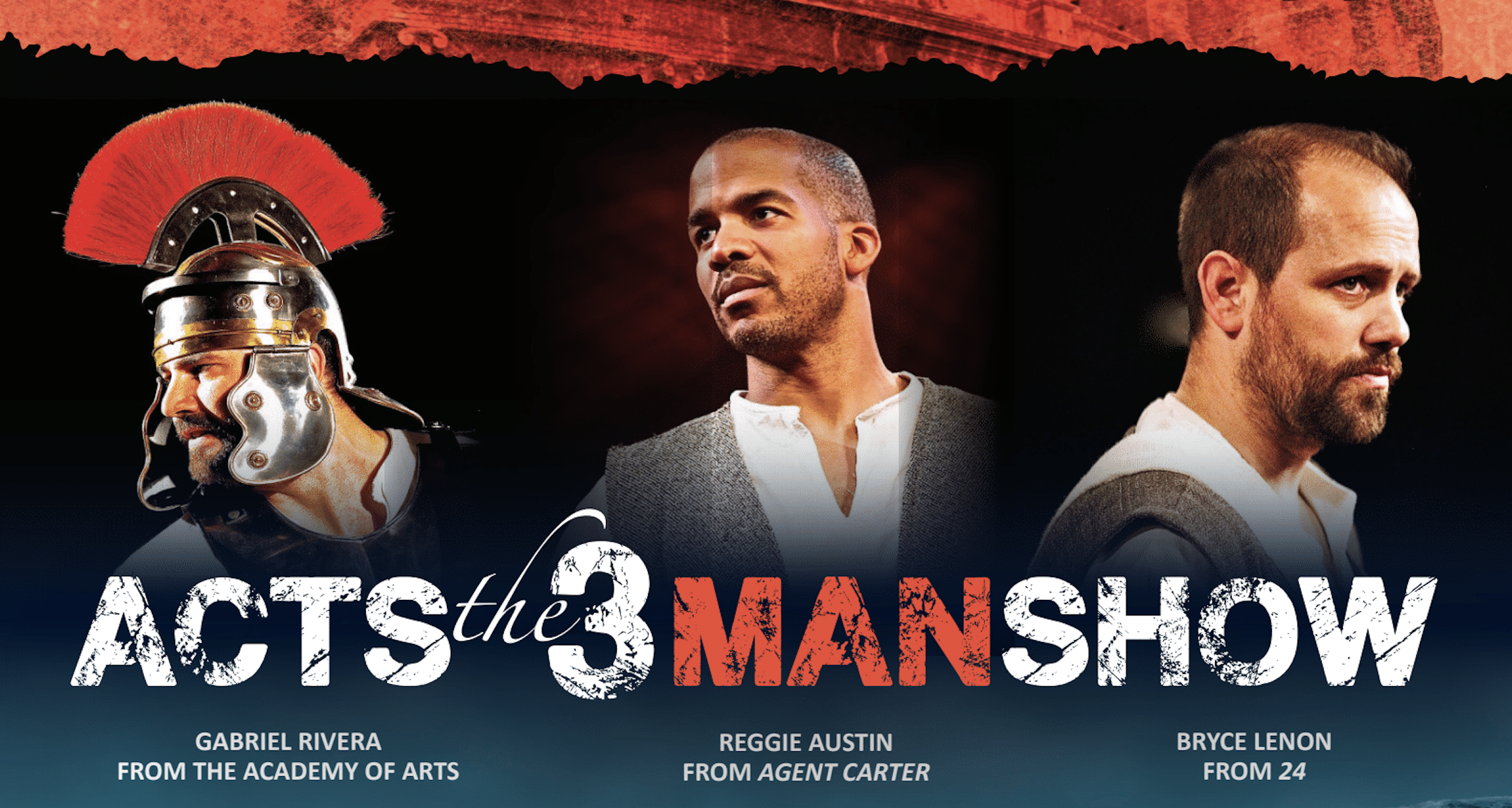 Friday, August 26 | 7 - 10 pm
Christ Community Church
25384 Mackenzie, Laguna Hills, CA 92653
THIS SHOW IS NOW SOLD OUT
A BOLD, ACTION PACKED, BIBLICALLY FAITHFUL & MOVING DRAMA BASED ON THE POWERFUL NEW TESTAMENT BOOK OF ACTS.
Witness the stoning of Stephen, Peter's passion at pentecost, Saul's persecution of the church and his conversion. Hear bold preaching and See apostles heal the crippled and dying.ExperiencePaul's endurance at the riot in Jerusalem and at sea in the epic storm and shipwreck. Be Moved by Peter's last stand inRome and Paul's boldness before Nero. Understand more deeply the cost of following Christ and the Hope of Heaven.
Acts the 3-Man Show is a full length action drama based on the powerful New Testament book. Armed with one of the great dramatic narratives in the Bible, three men take the stage to play all the roles – Peter, Paul, Stephen, Herod, Nero and dozens of others.
Professional and accomplished Christian actors Bryce Lenon, Gabriel Rivera and Reggie Austin tour the country to bring to life the resounding drama of the book of Acts. The U.S. theatrical run of Acts the 3-Man Show premiered in Los Angeles in 2011 with original cast members (Lenon, J.D. Jackson and Vinicius Machado) and has been performing across the country since 2012.
The show is an acting tour-de-force by performers with MFA's in Theater and numerous stage, film and TV credits among them including 24, Agent Carter, Cold Case, ER, House MD, Lie to Me, Flashforward, Law & Order, NCIS, CSI Miami, Homeland, Bones and many more. Nathan Winston, a recording artist, also adds his expertise as tour manager/speaker.
And then there's the music – a profound original score by award winning composer Gustav Hoyer that includes the peerless world-winds instrumentalist Pedro Eustache, featured artist on The Passion of the Christ soundtrack, Bass solos by John Hester, and the sonorous excellence of the Los Angeles's Grace Community Church Choir, conducted by Bill Brandenstein.
Written and directed by Bryce Lenon, Acts the 3-Man Show is a bold, unflinching, action-packed and moving drama that highlights the truth of the Word of God and upholds high artistic integrity.
Come along with us and experience the excitement and emotion as we bring to life the monumental events of the early church such as the stoning of Stephen, Peter's bold sermon at Pentecost, the conversion of Saul on the Damascus road, the riot in Jerusalem after Paul preaches Christ, the epic storm and shipwreck on the way to Rome, Paul's trials before Nero, and many other scenes.
Acts the 3-Man Show has performed all over the country for thousands of people, but their desire is to be faithful to the Audience of One who inspired the Word from which they glean their performance.
The show has gained a stellar reputation for Biblical accuracy blended with artistic excellence and has been invited to perform for large conferences and small churches alike.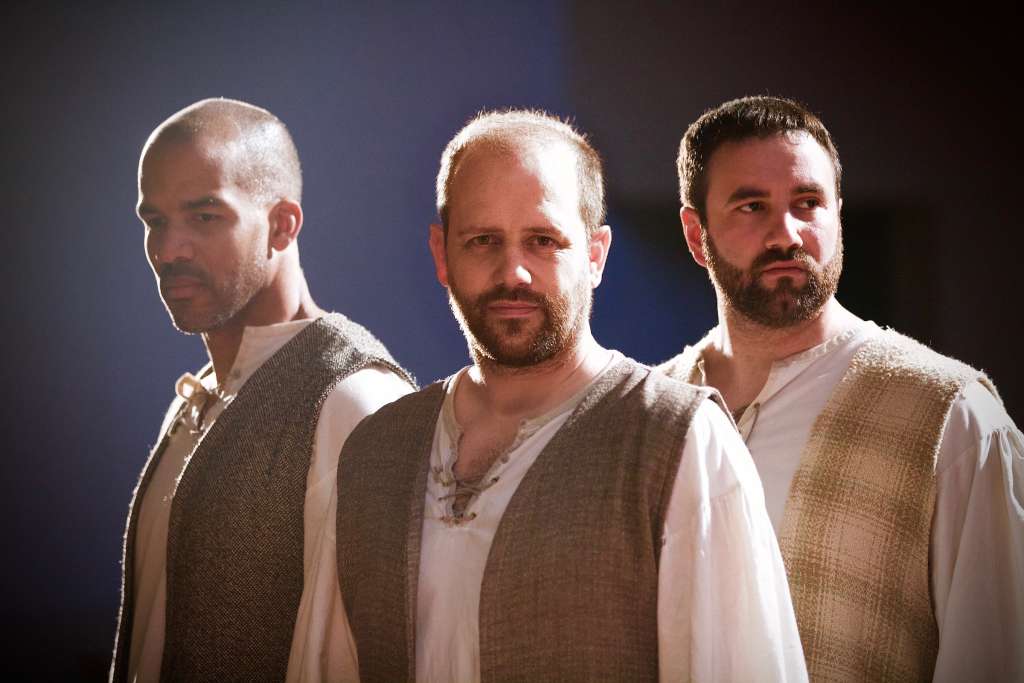 "Brilliant, moving, captivating and compelling. The drama of the book of Acts comes alive in an amazing feat of acting."
John MacArthur, Pastor & Author, Grace Community Church