Ministry Overview
The book of Acts records that the early church was devoted to the teaching of the Word, fellowship and the breaking of bread. At Christ Community Church we strive to be a community marked by these very same elements found in the book of Acts. We have many opportunities throughout the week for individuals to be a part of the life of our church. Here are some of our formal ministries.
Young Adults/College – Alathea
Alathea is the Greek word for "truth," the foundation for any coherent worldview. Along with beach nights, bonfires and good times together on a weekly basis, Alathea aims to help our young men and women develop a Christian worldview that is robust, attractive and a powerful witness to the Gospel of Jesus Christ.
Opportunities to share the Gospel publically take place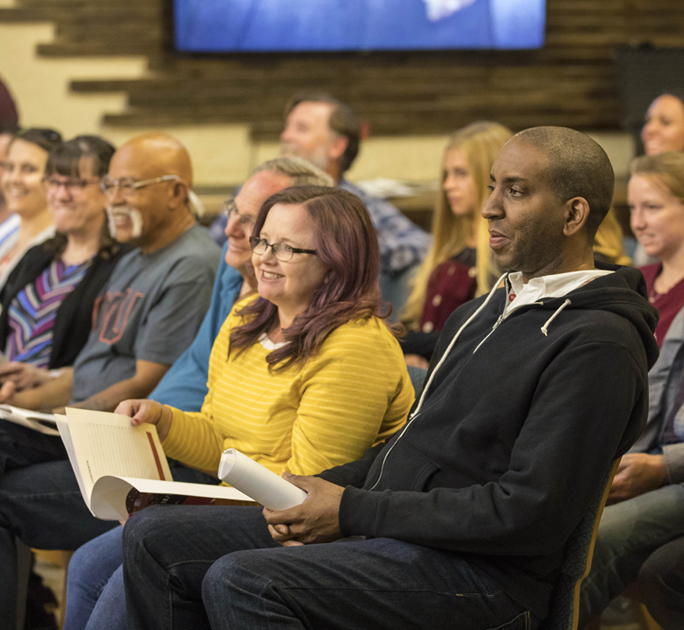 regularly in this group, and annually Alathea men and women travel to Utah to share God's Word with the Mormon community.
Women's Ministry
The week is filled with opportunities to dive into the Word of God for the women of Christ Community Church. In addition, throughout the year, the Women's Ministry hosts prayer breakfasts, game nights, bake sales, and a variety of other events for our women to come together for fellowship. The women's retreat invites women to get away from their daily tasks to focus on God's Word and their Christian walk.
Men's Ministry
Throughout the week, the men of Christ Community Church gather informally to share the Word and disciple each other (at various coffee shops and bagel stops). Quarterly all the men are invited to share a breakfast with each other, learn from God's Word and enjoy each other's company. Annually Men's Ministry holds Fall Conference, and later in the year all the men (and often their sons) come together to take part in a relaxing weekend "Surfari" near San Clemente beach.
Senior's Ministry
At Christ Community Church we recognize the unique stage of life that our seniors experience and the opportunities it can present. Our senior's ministry is just as active in teaching the Word and fellowship as any other stage of life and welcome to any and all newcomers (senior or not). We meet every other Thursday from 10:00 to 11:30 am in Room 109.