Life Is Too Short To Read Bad Books.
There are literally thousands of books you can read but time is limited so the BookSpot was created to highlight only those books that are worth reading. In the lobby to our main sanctuary is the BookSpot, to expose the people of Christ Community church to great books.
Q. If I Like A Book, Can I Take It ?
You can, but the BookSpot will only carry one or two copies of most books since the intention is to expose you to great books.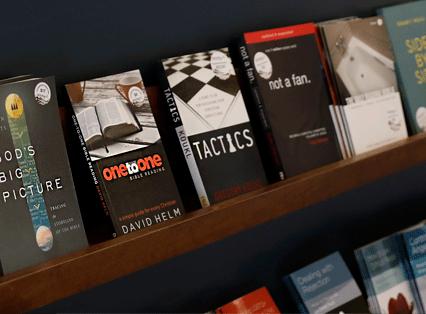 Q. How Do I Get A Book?
There is a box on the wall of the Book Spot that you can place donations of cash or checks into. A suggested donation is labeled on each book. All books are available through biblicalcounselingbooks.com and amazon.com.
Q. What If I Can't Donate Toward Book?
Books are labeled with a suggested donation, so any amount is appreciated. If you are in a place where you cannot make a donation, please feel free to accept the book as our gift. We only ask that you read it and not merely collect it for your personal library.
Q. Is There Anything Else I Need To Know?
Occasionally a book will be highlighted or recommended in a sermon. You'll find extra copies of those books highlighted on the center shelf. Also, the BookSpot is not a book store so no special orders, bulk orders, or any other orders can be placed through it.
Looking for more quality Christian resources? Browse the wide selection available at us.10ofthose.com