Preschool Goals
Our goal is to provide a quality, safe environment and program consistent with the highest standards which will allow each child to develop at their own rate of speed. Academically, spiritually, physically, and emotionally.

Help them develop positive self-esteem.

Develop social skills, as well as communication skills for solving problems peaceably.

Develop the ability to work and cooperate in small and large groups. Understand and respect the property of others.

Increase their capacity to think, reason, question, and experiment.

Develop language and early literacy skills.

Build early writing skills. This includes letter recognition, letter-sound matching, ideas of printing.

Build oral and listening skills.

Develop familiarity with numbers and mathematical reasoning skills.

Develop awareness and appreciation of art, music, poems, and books. Experience the artistic process.

Increase participation in play, singing, creative experiences, rhythmic activities, and dramatic play.

Develop large and small muscle coordination and activities designed to foster good habits of health and safety. This includes activities geared toward building strong muscles and coordination.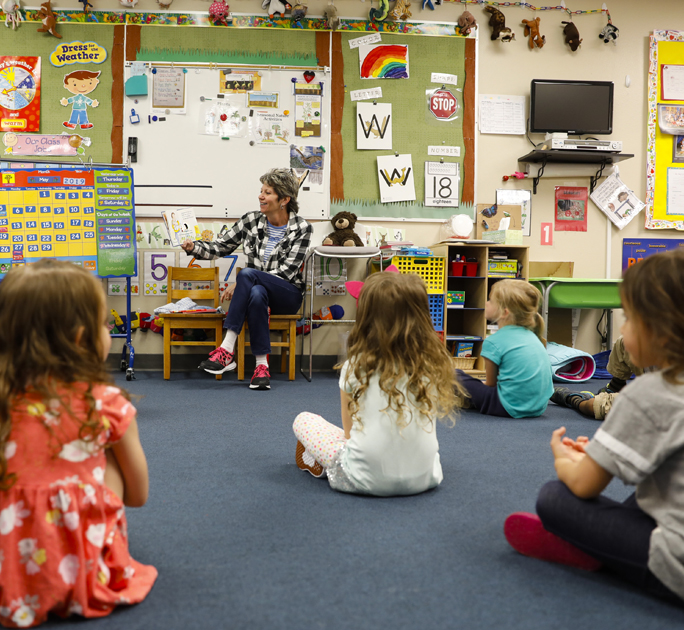 Kindergarten Readiness Skills we are working on in our Pre K programs
Academic
Knows full name and age

Counts and recognizes numbers 1-100

Understands the difference between letters and numbers

Knows vocabulary for body parts, animals, food, directions, household objects, and feelings
Listening & Speaking
Speaks clearly enough for strangers to understand

Follows spoken directions the first time they are given

Is willing to participate

Retells simple story (in sequence)
Self Help
Can button, zip, tie, and toilet themselves

Can sit and participate in an activity for 15-20 minutes

Enjoys books

Pretends to read
Gross Motor Skills
Runs, jumps, climbs, hops

Can walk a straight line

Rides a tricycle & pumps a swing

Catches a ball

Skips and alternates feet on stairs
Fine Motor Skills
Can use crayons, scissors, blue, and pencil with confidence

Can write name clearly

Can copy simple shapes

Can trace and outline
Social
Gets along in a group setting (can play without fighting and settles minor differences)

Is comfortable away from parents for six hours

Understands children must do what teacher asks

Wants to go to school

Can be patient and considerate of others