MINISTRIES
Student Ministry
"Our Student Ministry exists to honor God by declaring the good news of Jesus Christ, training students in His Way, serving others, and belonging to the family of God."
Programs
Sunday School – Sundays from 10:45 am to 12 pm in rooms 206 and 207. Students can expect a brief time of fellowship for the first 15 minutes. After this, there will be short time of welcome and announcements, followed by a gospel-centered message from the Bible that is typically exegetical (verse-by-verse), but occasionally topical. Students are then invited to join the youth group program on Wednesday nights in order to hear a review of the sermon and discuss questions pertaining to the message in small groups.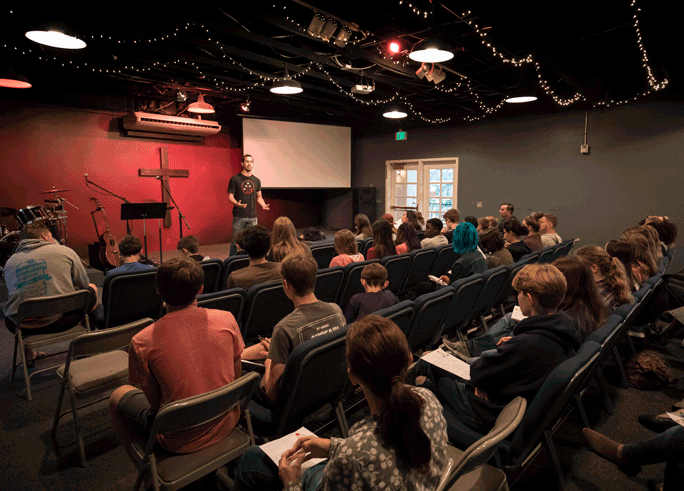 Youth Group – Wednesdays from 6:30 to 9 pm in rooms 206 and 207. Students can expect a brief time of fellowship for the first 15 minutes. After this there will be an official segment of welcome and announcements followed by songs of worship. Immediately after worship a 15-minute review of the sermon given the previous Sunday will be taught. Students then are instructed to divide into small groups for approximately one-hour with their leaders in order to discuss how they can apply the message to their lives and ask clarifying questions.
Student Ministry Overview
Honor God – We aim to honor God in all we do by making His glory known to students.
Guiding students to make God honoring decisions in their every day lives.
Creating programs and events with intentions to reach specific student audiences for Christ.
Committing to preach the Word of God to students as God's primary means of self-revelation.
Participating regularly alongside students in singing songs of worship to God.
Praying weekly for the salvation and spiritual growth of students.
Declaring the Good News of Jesus Christ – We declare the gospel of Jesus Christ as the primary message communicated to students.
Articulating the gospel to students in an understandable and concise way through sermons, personal discussion, and literature.
Inviting students to become a disciple of Jesus through repentance, faith, and obedience.
Helping students apply the gospel and its implications to the range of their personal experiences.
Training Students in His Way – We train students to be disciples of Jesus Christ and obey all that He has commanded.
Assisting parents[1] whenever possible to disciple their children toward godliness.
Modeling a godly lifestyle for students in all aspects of life.
Leading students in small group discussions relevant to a sermon or teaching.
Seeking one-on-one time with students outside of youth programs with the intention of discipleship.
Teaching students how to pray biblically, mainly through consistent example by their leaders.
Directing students to seek truth, guidance, and wisdom foremost from God's Word.
Advising students to read the Bible daily and systematically.
Answering questions students have pertaining to God, Scripture, faith, or any other spiritual-physical realities.
Serving Others – We encourage students to imitate Christ by lovingly serving and evangelizing others.
Equipping students to understand their faith, explain it to others, and defend it against attack.
Delegating service opportunities to students inside and outside the local church.
Exhorting students to make personal sacrifices in order to love and serve others.
Challenging students to proclaim the good news of Jesus to other students and people.
Belonging to the Family of God – We advocate students be active and accountable participants within our local church body.
Encouraging students to consistently attend Sunday corporate worship and Lord's Supper services with their families.
Providing opportunities for students to serve and participate in church life outside youth ministry programs.
Urging students to regularly attend youth programs as a regular means of supplemental discipleship.
Following up with students whom are new or have been consecutively absent from youth programs.
[1] We hold that apart from Christ Himself, parents are entrusted by God as the highest spiritual authority in a student's life and so also carry the primary responsibility of discipleship in the life of their children.